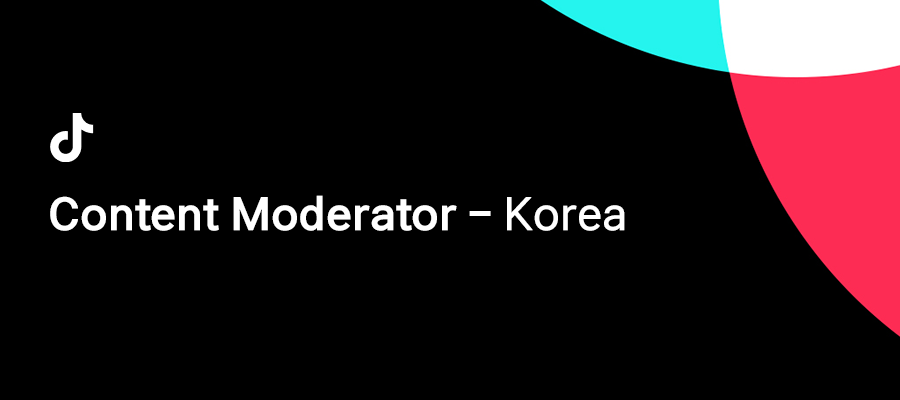 TikTok is the leading destination for short-form video. Our mission is to inspire creativity and bring joy.


Our Trust & Safety team's commitment is to keep our online community safe. We have invested heavily in human and machine based moderation to remove harmful content quickly and often before it reaches our general community.
Your wellbeing is very important to us. As part of this commitment, you will have access to our especially designed wellbeing programmes to support your physical and psychological health and wellbeing.


Our Content Moderators support our efforts to address objectionable or disturbing content which could include images of violence, animal cruelty, hate speech, violent extremism or content that exploits or endangers children. Our Content Moderators review [x videos per unit of time] on these topics in continuous succession during each shift.


What will I be doing?



동영상 플랫폼의 컨텐츠 안전성을 보장하는데 도움을 주는 가이드라인과 정책에 따라 영상 컨텐츠의 안전성 및 법적 준수 여부를 심사합니다.

플랫폼의 안전성을 확보하기 위해 24/7 리스크 관리 영상 심사 서비스를 지원합니다.

지역 사회 규정을 위반하는 콘텐츠를 미연에 감지하여 이를 연관 부서에 보고합니다.

전략적인 사고를 바탕으로 컨텐츠의 리스크 관리 시스템의 개선을 위해 연관 부서와 협의합니다.
What should I bring with me?



영상 및 미디어 콘텐츠에 대한 관심 및 이해도가 높으신 분

온라인 미디어 트렌드에 대한 분석력이 좋으신 분

문서작성 능력 및 수치에 대한 데이터 분석 능력이 좋으신 분

시프트 교대 근무가 가능하신 분

기본 수준의 영어 독해 능력 또는 중국어 독해 능력이 있으신 분 우대



TikTok is committed to the wellbeing of all our employees. Our promise is to provide comprehensive and evidence-based programs, to promote and support physical and mental wellbeing throughout each employee's journey with us. We believe that wellbeing is a relationship and that everyone has a part to play, so we work in collaboration and consultation with our employees and across our functions in order to ensure a truly person-centred, innovative and integrated approach.


TikTok is committed to creating an inclusive space where employees are valued for their skills, experiences, and unique perspectives. Our platform connects people from across the globe and so does our workplace. At TikTok, our mission is to inspire creativity and bring joy. To achieve that goal, we are committed to celebrating our diverse voices and to creating an environment that reflects the many communities we reach. We believe individuals shouldn't be disadvantaged because of their background or identity, but instead should be considered based on their strengths and experience. We are passionate about this and hope you are too.